"When should my child first see the dentist"?
We hear this question often, so we thought we would dedicate a blog post to answering this, as well as tips for making your child's first visit to the dentist a positive one, how to brush your baby's teeth, and more.
Why Is Dental Care Important Early in Life?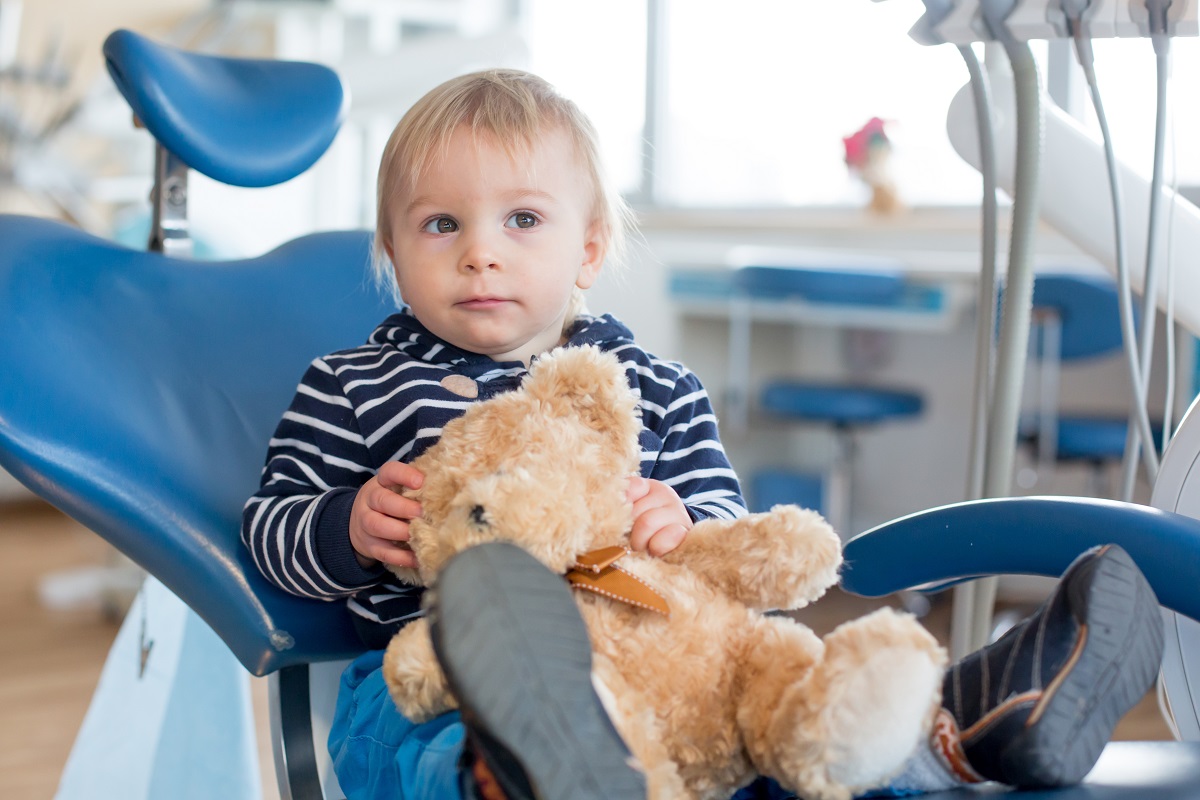 Dental health is of ongoing importance in a child's life. Beginning early by modelling good oral hygiene practices can help your child see dental care as a normal, necessary part of their daily routine. It also increases their chances of carrying these healthy oral hygiene habits into adulthood.
Did you know that one-third of five-year-olds in Australia have decay in their baby teeth? Dental decay is the most common chronic disease found in children and, left untreated, can lead to trouble focusing, sleeping issues, and damaged self-esteem.
A simple conversation with an experienced pediatric dentist early in a child's life can help prevent a host of issues while promoting optimal oral health.
With 90 percent of adults in Australian exhibiting some form of tooth decay, it is more important than ever to get your child started on the path to healthy teeth and gums.
When Should I Schedule Their First Visit to the Dentist?
According to the Australian Dental Association, it is important for your child to have their mouth examined by a dentist by or shortly after their first birthday. You can also consider bringing your child in once their first tooth appears.
What Should I Expect?
You might be wondering what will happen at your child's first visit to the dentist. Typically, we aim to keep these appointments fun, informative, positive, and as quick and smooth as possible.
Here are the some of the main topics we often cover at a child's first dentist visit:
Health history
Comprehensive exam
Teething
Brushing techniques
Bite
Preventative dental health program customised for the individual
Guidance regarding development and growth
Discussion of thumb sucking habits or pacifier use
Nursing or bottle use
Best toothpaste to use
Dietary counseling
Correct flossing techniques (yes, flossing is even important for small children!)
Parent education
Prevention and management of dental trauma
If necessary, your child will have their teeth cleaned and examined. In some cases, fluoride varnish will be applied to help prevent cavities.
Sometimes, little ones are brave enough to climb into the dental chair by themselves. If a child is feeling uneasy, we welcome parents to sit in the chair and hold the child on their lap.
Tips For Making Their Appointment a Positive One
Here are some tips to consider for making your child's first dental visit a positive experience:
Schedule an appointment between the time your child's first tooth comes in and their first birthday
Schedule appointments for the morning when children are well-rested and more likely to be coopearative
Do not bribe your child to go to the dentist or use the dentist as a threat or punishment
Take a tour of the office prior to the appointment
Play pretend dentist at home
Talk with your child about the importance of visiting the dentist regularly to maintain healthy, strong teeth
Model good oral health hygiene by letting your child watch you brush and floss your teeth
How Do I Brush My Baby's Teeth?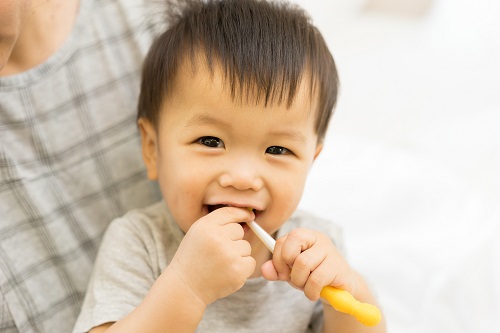 Even before your child gets all his or her teeth, bacteria can begin to cause decay. This makes it crucial to start brushing your child's teeth as soon as any erupt. One trick for getting your child used to having their teeth clean is wiping their gums with a soft, clean cloth twice a day.
Once teeth begin to appear, you can switch from the clean cloth to a soft children's toothbrush — skip the toothpaste for now — until 18 months of age. You can even floss your child's teeth.
What Happens If I Have Missed This Checkup Milestone?
Is your child already past this first tooth/first birthday milestone? No worries! We welcome children of all ages, regardless of if they have received dental care before or not. It is never too late to start caring for your oral health and starting healthy oral hygiene habits.
Schedule Your Child's Dental Checkup Today
Knowledge and prevention are key to helping maintain your child's oral health. So, along with planning a party and a cake for their first birthday, remember to schedule your child's first dental appointment.
Our team at 123 Dental is happy to welcome your child — at any age — for their first dental visit. Our caring staff will ensure we do our best to create a positive experience for your child and set them up for a lifetime of healthy teeth. Contact us today with any questions or to schedule your child's appointment.