Are damaged, misshapen, or discoloured teeth affecting your self-esteem? Dental veneers can improve the overall appearance of teeth and give you a boost of confidence. They are a popular choice among individuals that do not respond to other dental treatments such as retainers, braces, or teeth whitening.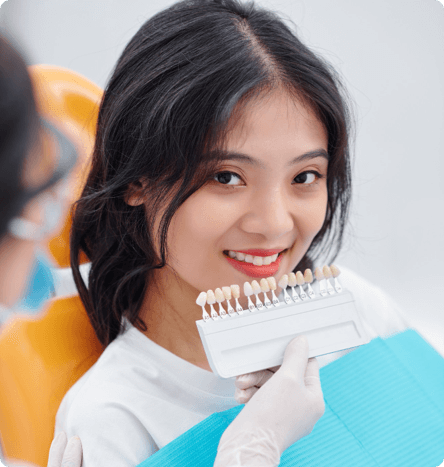 What Are Dental Veneers?
Dental veneers are thin, custom-made fittings that get bonded to the front of teeth to hide imperfections and improve the appearance of your smile.
Veneers can provide a long-term solution to a variety of cosmeetic dental issues such as:
Chips
Stains or discolouration
Worn down teeth
Minor damage
Overall appearance
Unevenness
Decay
Crookedness
Gaps in the teeth
What are the Benefits of Veneers?
Dental veneers offer a variety of advantages such as:
A natural, healthy tooth appearance
The gums tolerate porcelain well
They are resistant to staining
A white colour can be chosen to brighten dark teeth
They tend to look better and be more durable than crowns
What is the Treatment Process
The treatment process for veneers typically involves at least three trips to the dentist. One trip consists of a consultation while the other two trips are dedicated to applying them.
To prepare for a veneer, your dentist will trim the enamel, reshape the tooth's surface, take an impression, make a model, and then send the model to a dental laboratory to create the veneer.
While it is created (this usually takes about two to four weeks), temporary ones can be used.
Once the veneer is created, your dentist will examine its fit and colour, trim it to achieve the best fit, and permanently cement it to your tooth. The colour can be adjusted by using different shades of cement.
Considerations for porcelain veneers:
Considerations for resin-based composite veneers:
Stronger and more durable than resin composite veneers
More costly
They have the same colour as natural teeth but can be adjusted to brighten the smile
More resistant to stains
Mimic natural teeth more since they are better at mimicking the light reflecting properties of natural teeth
More affordable than porcelain veneers
May not last as long
May break more easily
Require less enamel removal
Easier to replace if damaged or broken
Before & After Treatments
Here are some of the results we have managed to create for our clients. Results may vary from client to client depending on their dental issues and considerations. Be sure to consult your dentist for an individualised treatment plan.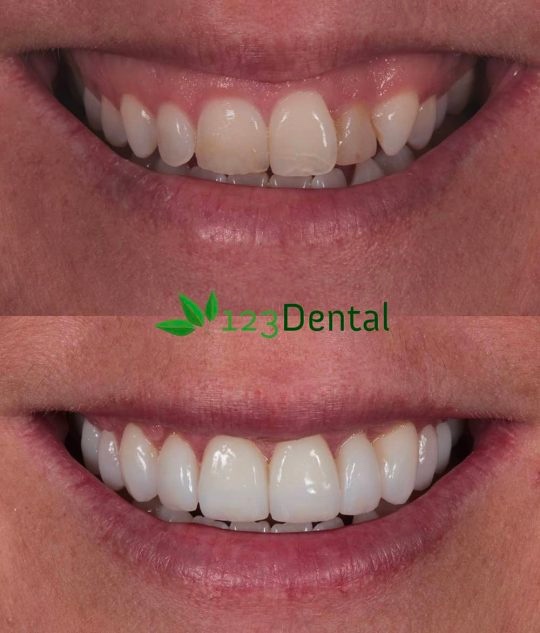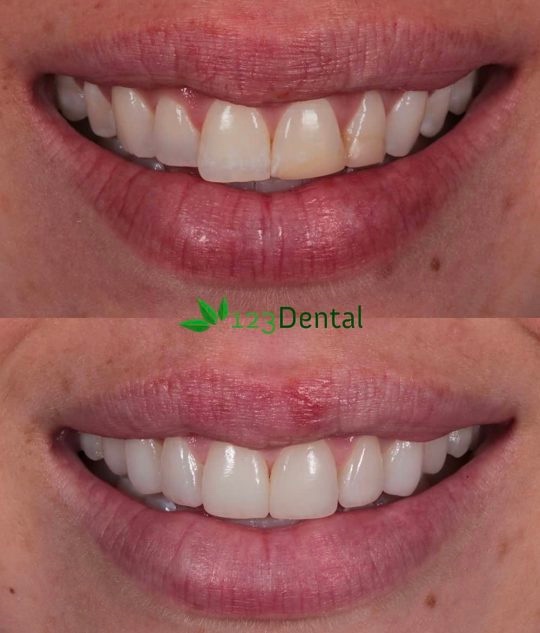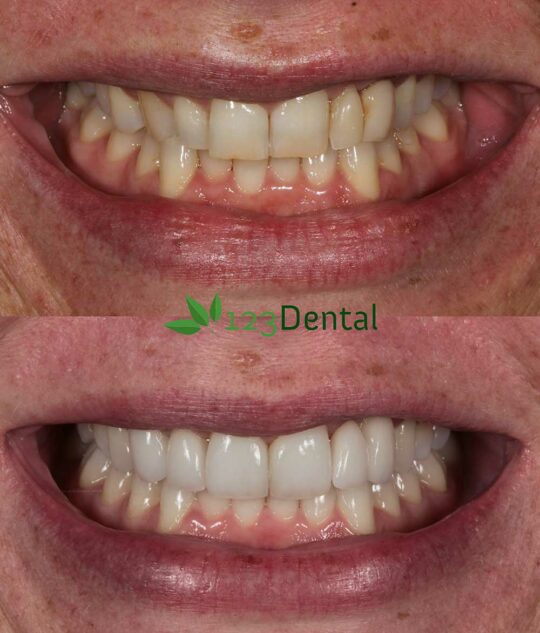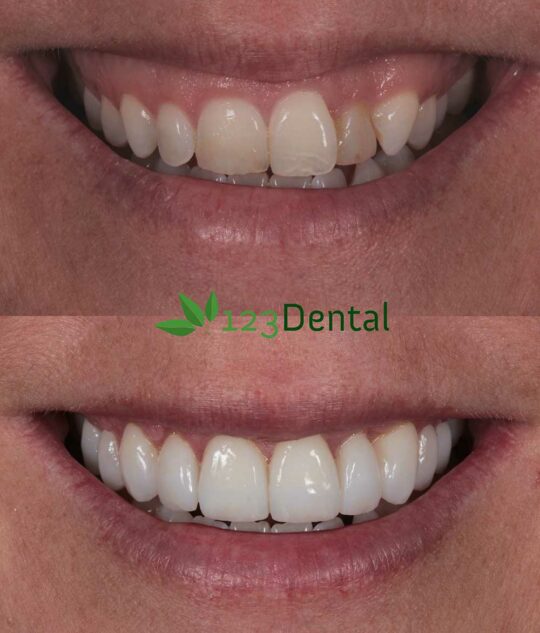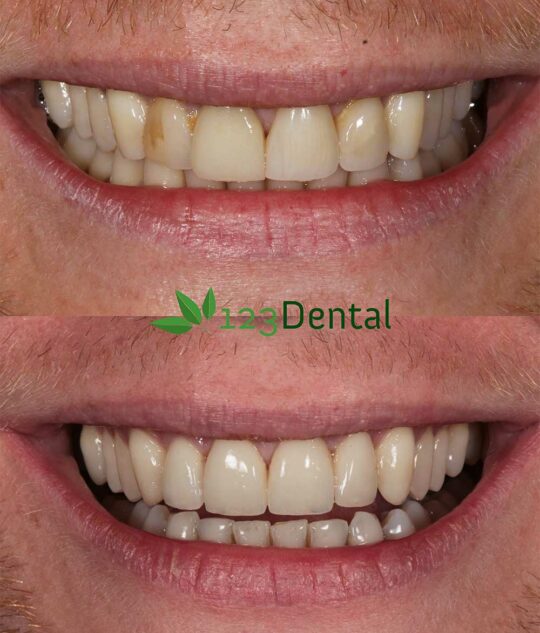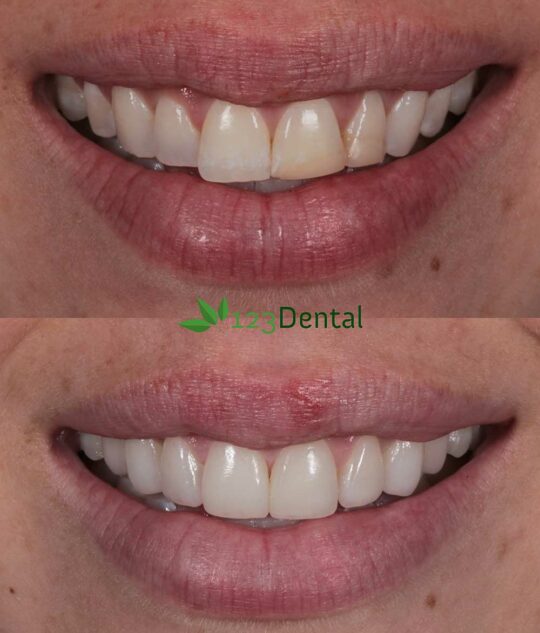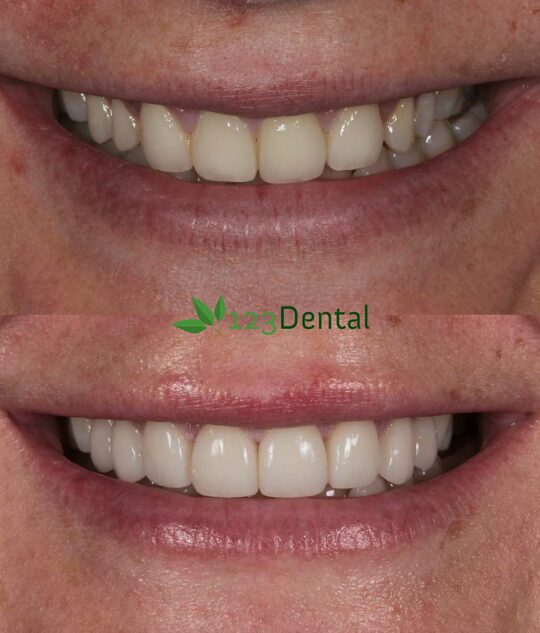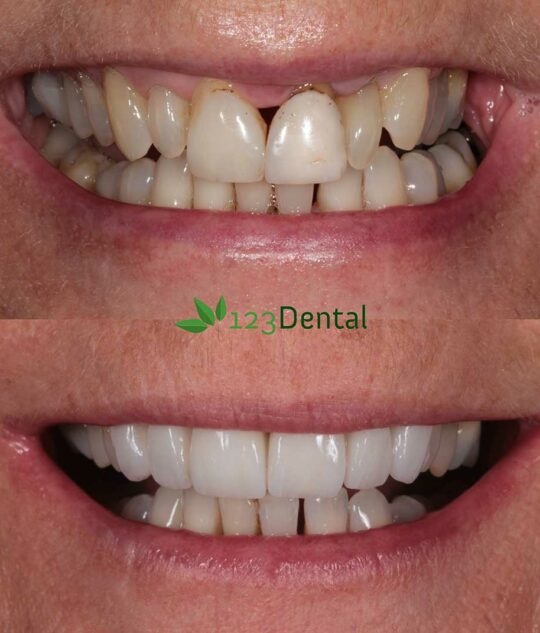 Start Your Veneers Journey Today!
Get in touch with us and we can book you in for the start of your Veneers treatment plan!
Who Needs a Dental Veneer?
People with stained or chipped teeth can opt to get dental veneers, which cover existing teeth. But you do not need to have damaged teeth for veneers. Some individuals actually get veneers purely for cosmetic purposes so that they can achieve their dream smile.
If you have extensive tooth decay, you should get it treated first before getting veneers. Another reason why you may want to reconsider is if you grind or clench teeth while sleeping (bruxism). Talk to your dentist first so you can be prescribed a bite splint, particularly if your teeth require grinding down before veneer application.
Should I Choose Porcelain Veneers or Composite Bonding?
Porcelain and composite veneers can both give you the smile you have always wanted. Your dentist will first assess your teeth and their condition to determine the best treatment for you. You will also provide answers to questions, such as your aesthetic goals, budget, time constraints, and other personal considerations.
If you're looking for an affordable solution, composite bonding may be what you need. However, if you have major aesthetic concerns and cost is not an issue, porcelain veneers may be a better fit.
Are There Drawbacks to Wearing Veneers?
Dental veneers offer a ton of benefits but can also come with disadvantages. It's not for everyone, including those who are on a tight budget. Dental veneers are costly, and the pricing can start at $1000 per tooth for porcelain veneers. They're also not for those who may tend to have bad oral hygiene. If you crack, chip, or damage your veneers, they are no longer usable. Here are other drawbacks that you need to know about:
Once on, you can no longer remove veneers.
Teeth sensitivity to hot and cold may increase.
Veneers do not mean that you can no longer have cavities.
Your veneers may not match your tooth colour, too, which is a huge no-no.
How Do I Make Sure My Veneers Match the Natural Colour of My Teeth?
Some people get veneers that are about a shade whiter than their natural teeth. After getting veneers, they simply have their teeth whitened. Remember, though, that teeth whitening results are temporary, which means you will frequently need to have your teeth whitened to match your veneers.
Porcelain veneers blend better with the natural enamel of your teeth because the material has the same colour. It also mimics the translucence that human teeth have.
You should always talk to your dentist about your concerns about getting veneers. That way, you can get the help you need to ensure your treatment has the best results.
Will the Process Hurt?
Veneer application is virtually painless – for most people. Depending on the condition of your teeth, you may require a numbing process, but it should not hurt. A numbing gel will be applied to the surfaces of your teeth. In most cases, you will not feel the injection.
After the bonding process, it may take a while for the tooth area to heal fully, which usually takes less than two weeks. It is entirely normal if you feel decreased sensitivity in your teeth, but it should go away in four weeks or so.
You may also notice that your bite is a bit different, but you will get used to it. If you do feel pain, make sure that you contact your dentist immediately.
How Long Will Veneers Last?
Dental veneers last for years, but the duration will depend on the material used and how you care for your new teeth. Typically, composite veneers last 4-7 years. Meanwhile, if you have porcelain veneers, they can last anywhere from 10 to 15 years.
As you can see, veneers are not a permanent fix. Therefore, it makes sense that you always follow your dentist's instructions regarding how to care for your veneers properly. Breakage and discolouration are two of the biggest concerns with a veneer's lifespan. Any damage is irreversible and will require replacement.
What are the Best Ways to Maintain Dental Veneers?
Caring for your veneers is easy. It's vital that you:
Avoid grinding or clenching your teeth. If you have bruxism where you cannot control the clenching at night while you sleep, you will have to wear a bite splint.
Brush and floss properly and regularly.
Stop eating ice, hard candies and nuts, popcorn, and caramel apples, among others.
Wear a mouthguard if you play any sport.
Stop nail-biting, fork nibbling, opening packages, undoing knots, and other bad teeth habits.
Just like with natural teeth, veneers need proper care and attention for them to last.
If damaged, misshapen, or discoloured teeth are affecting your self-esteem, dental veneers can improve the overall appearance of teeth and give you a boost of confidence. Veneers are a popular choice among individuals that have not gotten the results they desired through other dental treatments such as retainers, braces, or teeth whitening. Here, we'll take […]
Crowns and veneers are dental restorative options that can help your teeth look and function better. While veneers and crowns are different procedures, they both boast great success rates. Since dental restoration procedures can be costly, we feel it is important for our patients to have a thorough understanding of each procedure. What Are the […]