Are your teeth stained and discoloured? Would you like to reinvigorate your smile? If so, teeth whitening may be the solution.
As today's most popular cosmetic dental procedure, it utilises a high concentration of bleaching gel to reveal immediate visible results.
What Does Professional Teeth Whitening Do?
Teeth whitening by a dental professional can produce fantastic results in no time at all. Whether your teeth are severely stained and discoloured or you simply want to brighten your pearly whites, there are several reasons to undergo a safe and pain-free procedure, such as:
It's quick, easy, and produces instant results
Professional treatment is the safest and most effective form of bleaching
Yellowed or darkened teeth caused by ageing and eating habits whiten quite easily
The use of thicker peroxide gels and desensitisers like fluoride and potassium nitrate minimise tooth and gum sensitivity
What Does
Teeth Whitening Remove?
Yellow, brown, or gray discolourations caused over time with ageing
Stains caused by the consumption of coffee, sodas, red wine, fruits, dark veggies, and other foods
Stains and discolourations caused by tobacco use
While in-clinic procedures can reverse discolouration and remove a variety of stains, some stains or discolourations are naturally resistant to even the most effective bleaching gels and procedures.
For instance, teeth with inorganic stains don't respond well. In fact, the affected teeth may actually look darker than the surrounding whitened teeth. Teeth whitening will also not help teeth with darkened dentin caused from trauma or teeth suffering from fluorosis, which is overexposure to fluoride.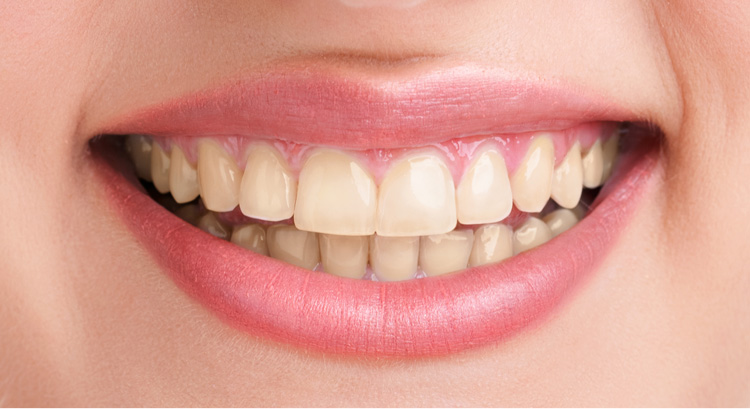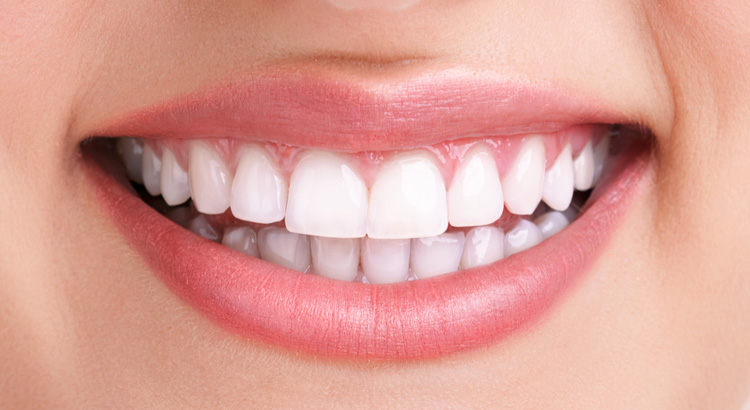 Start Your Teeth Whitening Journey Today!
Get in touch with us and we can book you in for the start of your Teeth Whitening treatment plan!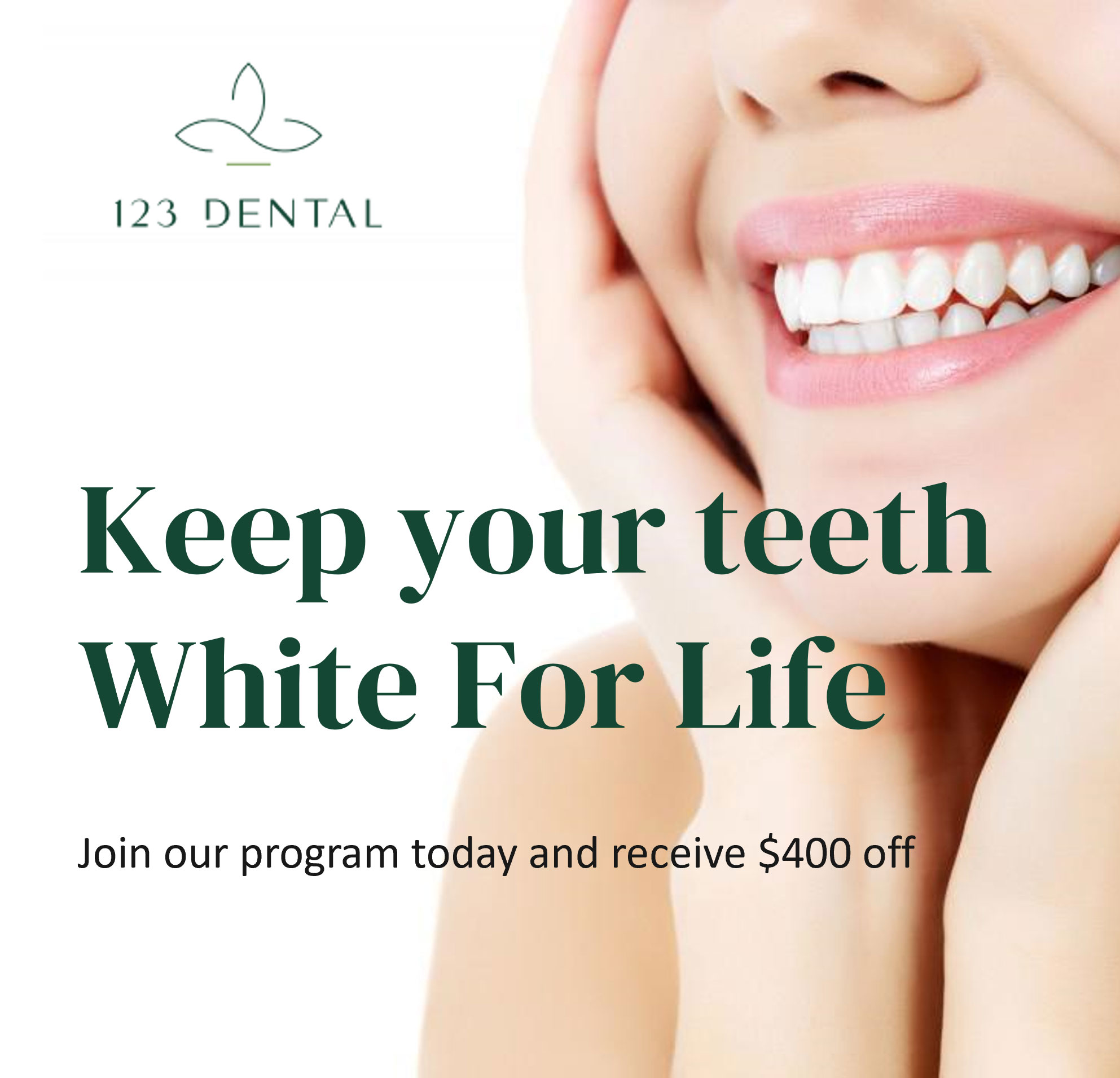 Join Our
White For Life Program!
We're delighted to offer our latest program to help you get white teeth for life with teeth whitening in Perth!
Receive an in-chair whitening, trays and take-home bleach all for $800 down from $1200.
To remain in the program, attend your 6 months check-up and cleans at 123 Dental and receive top up whitening and stay white for life.
If you miss a check up and clean you will no longer be able to participate in the program.
Whitening is a straightforward and pain-free process. In fact, there are only two steps and many patients doze off during the procedure. That being said, it helps to know a little about the process and understand what to expect. Here's a general overview of how most teeth whitening procedures work: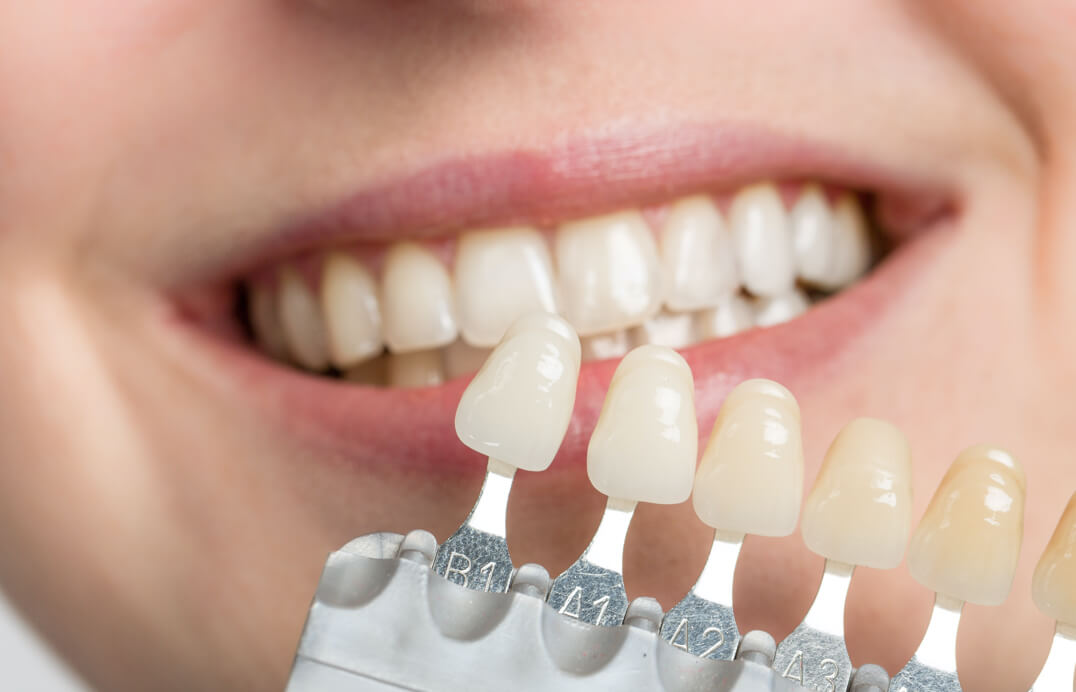 Step 1
Prepping the Teeth
A prophylactic cleaning is frequently administered to clear away plaque buildup on the surface of teeth and in between them. A dental exam is also usually performed alongside the cleaning, during which the teeth and gums are checked for signs of tooth decay, gum disease, and cracks. If any of these are present, bleaching may cause irritation. Sometimes, these problems must be corrected prior to undergoing a teeth whitening procedure.
Photos of the teeth are also often taken, and the colour of the teeth is measured using a shade guide in order to provide a benchmark for measuring progress.
Step 2
Bleaching the Teeth
Regardless of which bleaching gel is used, a cheek retractor is placed in the mouth to expose all of the teeth within the "aesthetic zone." Hardening resin or a liquid rubber dam is then applied to the gum tissue to form a layer of protection against any bleach-related irritation.
Next, a hydrogen peroxide-based bleaching gel is applied to the teeth lying within the esthetic zone. The gel is kept on for 15-30 minutes. Then, it washed off or suctioned out and the teeth are checked to view the progress and determine whether or not more bleach is needed.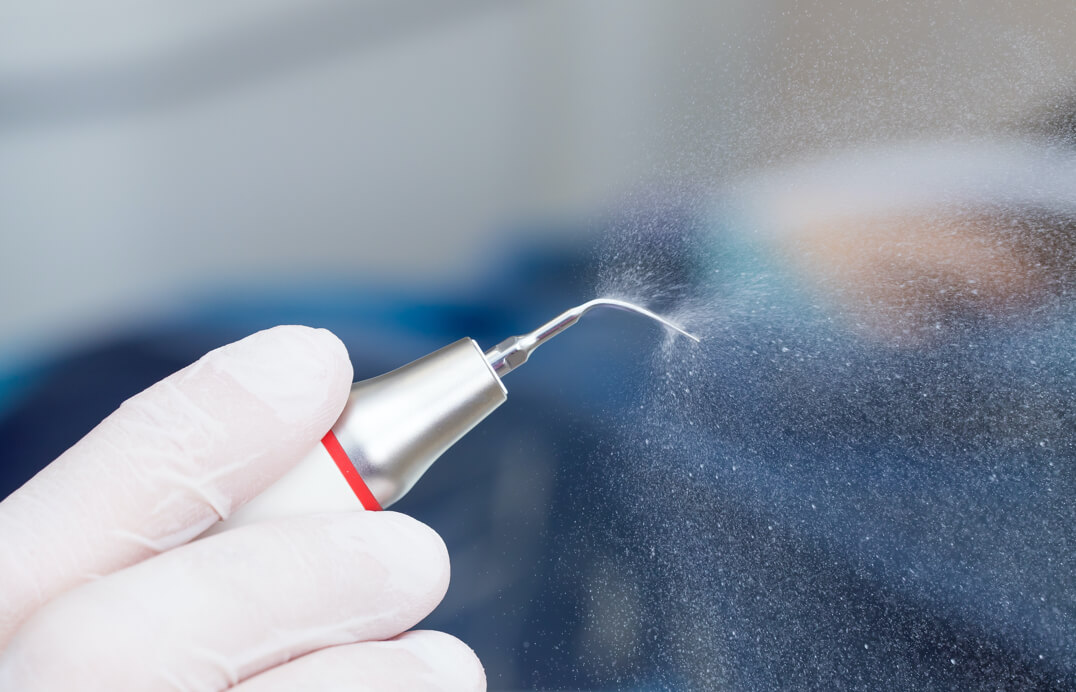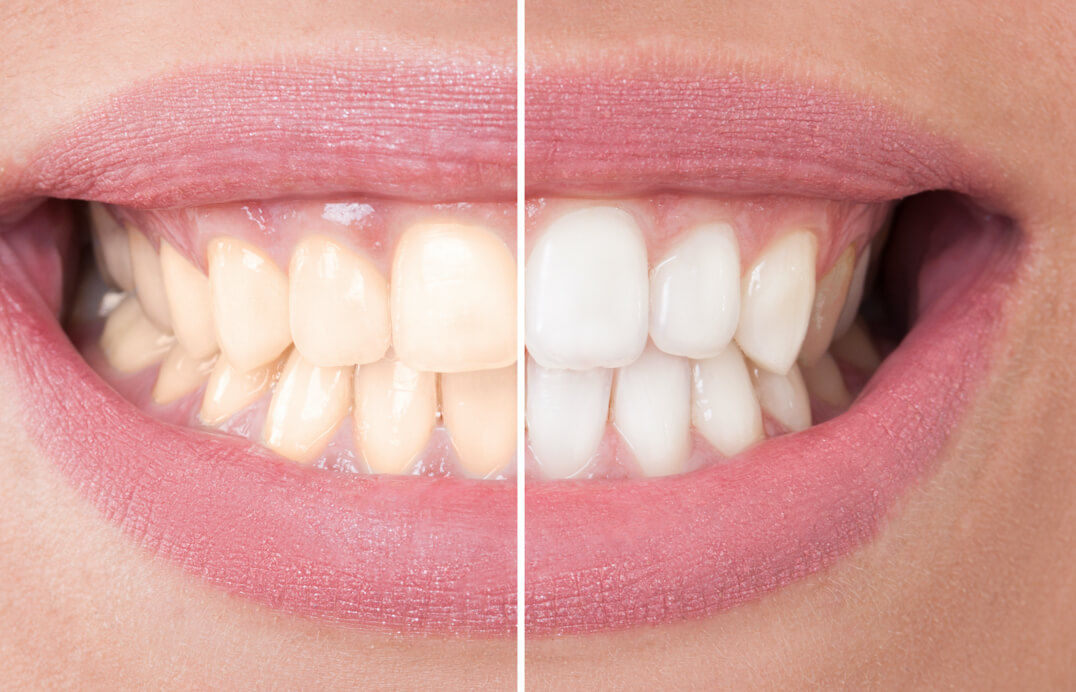 If so, additional bleach is applied for another 15-30 minutes. After the final application, the retractors are removed, the mouth is rinsed, and a measurement of the shade change is taken.
There are 16 total shades of whiteness. The procedure may whiten teeth by as many as eight shades or as few as two or three. However, since dehydration resulting from the bleaching process often makes teeth look whiter than they truly are, the real colour of newly whitened teeth typically reveals itself in a couple of days.
We always follow up in chair bleaching with a complimentary take home bleaching kit including custom made trays.
Is Teeth Whitening
Right for You?
Professional whitening is suitable for the majority of people wanting a whiter, brighter smile. At 123 Dental Perth, we proudly provide patients throughout Perth with renowned dental service and an excellent selection of treatments.
With us, a bright and healthy smile can be yours in just a few simple, pain-free steps. Your personalised treatment plan will have you smiling confidently in no time at all!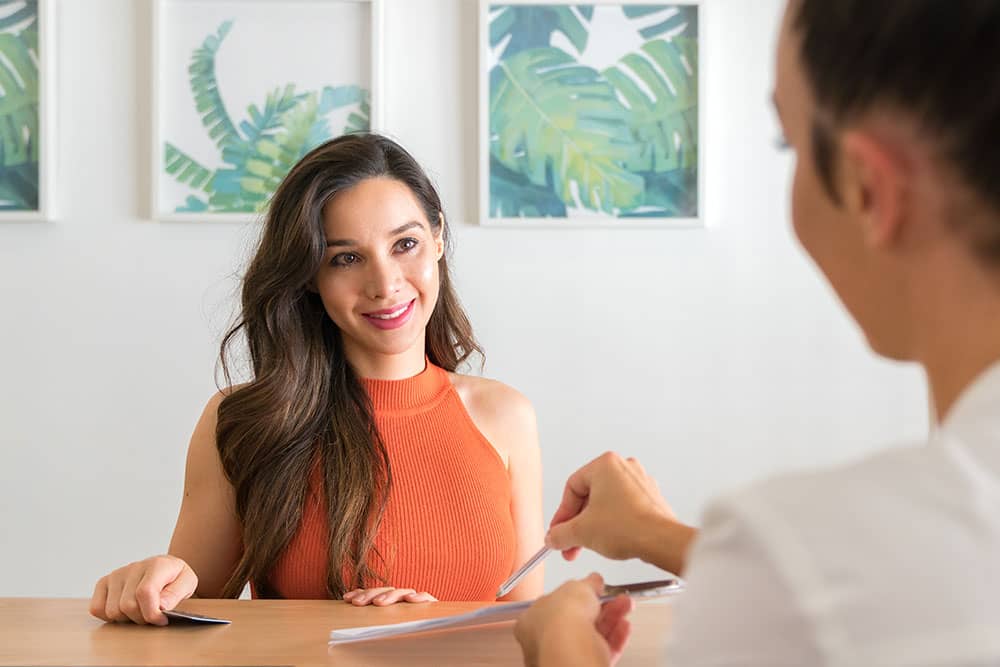 Before & After Teeth Whitening
We have produced some great results for our patients, giving them a more confident smile. See some of the happy smiles below: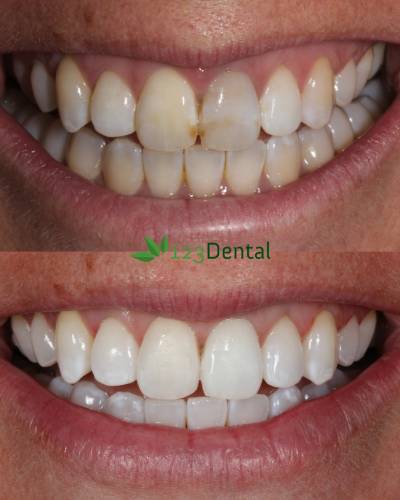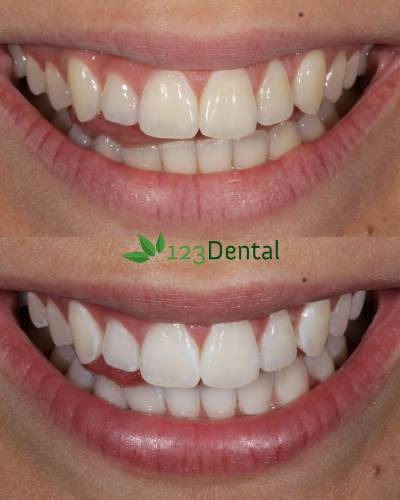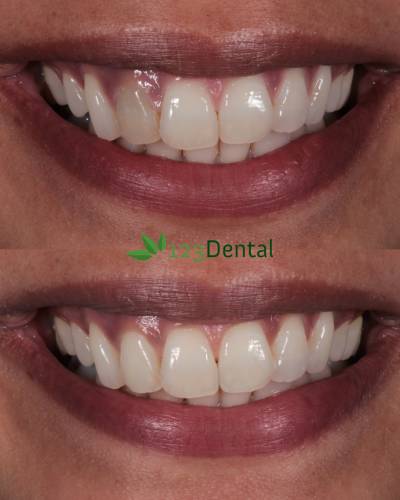 I have some dental work done. Can I still get my teeth whitened?
The take-home kits are guaranteed to be specially formulated to be safe for the tooth enamel. We choose products that we know and trust. They have zero to low acidity and mild yet effective, unlike what other in-office dental treatments are.
If you have crowns, caps, or veneers, you may get your teeth whitened, however, the original colour of your previous treatment will not change. Our teeth whitening service will work to provide a deep cleaning of your teeth's surface. Those who are wearing braces cannot have their teeth whitened.
Does teeth whitening hurt?
Teeth whitening is often painless, but some patients do say they feel a very slight burning sensation. It is more common with in-chair treatments. If you have normal, healthy gums and teeth though, you should not feel many adverse effects. Our teeth whitening services never remove teeth enamel. The Zoom! Teeth whitening system comes with a 25% hydrogen peroxide-infused whitening gel. Although it is a high percentage, research and clinical studies have proven that this amount is safe.
What are the potential risks of the treatment?
Any teeth whitening product or treatment has some form of danger, especially for people who do not have healthy gums and teeth. The risks are also increased for those who do not follow the recommendations or instructions we provide. Some of the risks include:
Gum irritation, inflammation, or even blanching of the gums or gum line
Temporary tooth sensitivity, which often happens to people with recently cracked teeth or micro-cracks and open cavities
White spots on teeth because of calcium deposits, which will disappear within 24 to 48 hours
Although it is not seen as a risk, the whitening effect can decrease over time.
What results can I expect?
The result will depend on the person and more importantly, the extent of teeth discolouration. In traditional settings, teeth can be at least two to five shades lighter while optimal situations can lead to at least eight shades lighter.
Of course, if your teeth are heavily stained, the results will appear more dramatic. If you are unhappy with the outcome of the treatment, you can have another procedure after a few months. How regularly you have the treatment can also affect the result. Usually, whitening is performed once every 1- 2 years to maintain the appearance of the teeth.
Are there people who should not get their teeth whitened?
Teeth whitening products and treatments are considered safe, especially when administered by your 123 Dental dentist. We only recommend products that we use on ourselves and our families, so you can be sure that they are of excellent quality and safety.
In general, teeth whitening is safe for everyone. However, it is not recommended for those who are below 18 years of age. Pregnant women should also avoid getting their teeth whitened. People with health problems are not advised to get the treatment, including those with periodontal disease or gums that are already deteriorating. If you have extremely sensitive teeth or you wear braces, teeth whitening, unfortunately, is not suitable for you.
How long will the whitening effect last?
Teeth whitening is certainly worth your while. With the right maintenance and care, the effect can stay for around a year or more. However, re-staining can happen, depending on your lifestyle and diet. If you want it to last for a long time, you should avoid smoking and drinking coffee or tea. Even fruit juices and sodas can stain the surfaces of your teeth, too. Regular flossing and brushing will also help avoid re-staining. Zoom! Whitening products can be used with other in-office treatments, which can significantly reduce discolouration over time.
Are there important things I have to do before the treatment?
To get the most out of your treatment, it pays to pay attention to the pre-care plan that your dentist recommended. You normally do not have to do anything, just your routine. Some patients who use electric toothbrushes may have to switch to a manual toothbrush temporarily to reduce the chances of abrasions. Make sure that you brush gently and softly. It is also advisable to skip flossing on the day of the treatment.
You cannot eat a few hours after the procedure, so it is best to eat a full meal before it.
What are your tips to help me maintain my white smile?
The results are immediate, but you should not expect them to last for a long time unless you take care of your teeth. Limit foods and drinks that cause staining, such as soy sauce, curries, coffee, and red wine. You can use a straw or a cup with a spouted lid if you need a drink. Smoking is a no-no because nicotine can damage your teeth and gums. Finally, ensure that you visit your dentist regularly for professional cleaning and check-ups.