Why Choose Implants?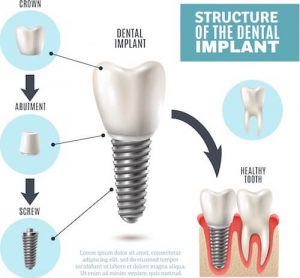 Implants are a good solution to tooth loss because they look and feel like natural teeth. When a tooth is lost the specialised bony process that houses the tooth begins to shrink due to lack of stimulation. This causes a decrease in width and height of the bone in the area where the tooth is lost. Neighbouring teeth and opposing teeth begin to move into the space. This causes food lodgement, subsequent decay and possible gum disease. Loss of teeth can also cause the cheek and lips to collapse giving an aged look.
The consequences of tooth loss can be prevented by replacing the lost tooth in a timely manner. Although there are several options to replace a missing tooth, our recommended option is dental implants.
What are Implants?
Implants are tiny titanium screws or posts that are surgically placed in jaw bone. Once integrated into bone they act like roots onto which small posts are attached which protrude through the gums. These posts provide stable anchors to the replacement teeth. Implants maintain the bone height by stimulation and prevent unnecessary trimming of adjoining teeth for bridge placement. Since implants are titanium posts, decay cannot occur and with regular professional cleaning and proper home care, can last for many years.
The most common indications for implant therapy include the replacement of one or more missing teeth, support of a non-removable bridge to replace multiple teeth, or support of a removable full or partial denture. Patients who successfully pass a screening and evaluation can be considered as candidates for implant therapy.
How Does the Procedure Work?
During the surgical appointment the implant site is prepared to receive the implant following strict aseptic procedures. The selected size of the implant is placed in the prepared site. The implant takes at least 12 weeks to fuse with the bone.
During the second appointment, the appropriate post is attached. An impression of the post is taken and sent to the lab for the fabrication of the implant crown, bridge or denture.