When and Why Was 123 Dental Founded?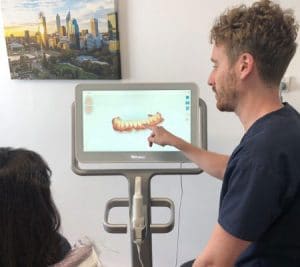 For more than three decades, 123 Dental has been delivering top-quality dental care services to the residents of West Leederville.
Our team of dental professionals has been committed to maintaining the highest standards of care and patient satisfaction since our establishment.
Although we have undergone a few changes in ownership over the years, our dedication to providing exceptional dental services has never wavered. In fact, we've rebranded from West Leederville Family Dental to the 123 Dental brand, which is now widely recognized and respected by Perth residents.
By evolving our name and branding, we have been able to expand our services beyond the local community and cater to a wider range of patients throughout the Perth region. This has allowed us to broaden our scope and improve our offerings to meet the diverse needs of our patients.
Despite the growth and evolution of our brand, we are still firmly rooted in West Leederville, and our office is located just a few properties away from our original location. We are proud to be part of this community, and we look forward to continuing to provide high-quality dental care services to our patients for many years to come.
Experience Where it Counts
At 123 Dental, we know experience counts when it comes to dental treatment and procedures, and we have plenty of it.
We currently have four experienced dentists on our team, with decades of combined experience in providing top-quality dental care. And we're not stopping there! Soon we will be expanding our team to five dentists, allowing us to continue delivering exceptional care to even more patients.
Beyond experience, however, we have a strong commitment to the West Leederville community. In fact, one of our dentists is a former owner who simply wanted to focus less on P&L reports and more on serving the community he loves by doing what he loves – providing top-quality dental care.
Dr Kevin Keyhani trained in Germany and with a special interest in implants, he has taught on courses internationally on dental implant procedures (in addition to performing them).
Meanwhile, Dr Jack Brazel, trained in England at the UK's top dental school and took several courses throughout Europe, Asia, and Australia to further his dental education. After working for the National Health Service for a year, he then moved to Australia in 2012 before joining the 123 Dental team in 2017.
Additionally Dr Deanne earned her Bachelor of Dental Science with Honours from the University of Western Australia.
To say we have experience and a focus on education would be an understatement.
An Emphasis on Professional Development
The dental industry is constantly evolving and full of innovation and new things to learn.
All of our staff members, from our dentists, hygienists, dental assistants and front desk personnel, are kept up-to-date on all of the latest technology and trainings.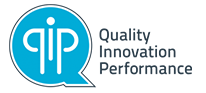 Unlike most dental practices in Australia, we're also accredited by QIP against the NSQHS Standards with the ADA.
While other practices can do what they want, we strictly follow certain guidelines, protocols, and procedures to the betterment of our patients and our staff.
From the latest hygiene practices to cutting-edge tools and trainings, every member of our staff is focused on continued education and development from the top down.
Each of us has a passion for dentistry and we're committed to excellence in everything we do.
A Preferred Provider for Most Major Health Funds
As a testament to our experience and quality of the dental treatment we provide, we're proud to be a preferred provider for most major health funds.
This is great news for our patients. Not only do they receive the absolute best dental care, but they receive the maximum rebate from our practice.
Some of the many Health Funds we are preferred providers for include:





Friendly Staff Environment
Some practices preach it but we truly believe we're only as good as our staff. That's why we strive to make every member of our team understand how valuable and appreciated they are.
To do so and strengthen our level of commitment to the practice and our patients, we regularly have social gatherings, team parties, and the like. This creates a cohesion, happy work atmosphere, and calming environment our patients can't help but notice.
We're not your typical cold and sterile feeling dental office. We strive to make you feel at home.
We're a Family Practice
Whether your five-year old needs a teeth cleaning or you're a grandfather in need of implants or dentures and can't decide between the two, you can come to us for your entire family's dental needs.
Why? Because we're a family practice.
While some dental practices claim to be a "family practice," the reality is many of them would rather focus on one type of clientele. This isn't the case with 123 Dental. We truly are a family practice.
We actually enjoy working with children and patients of all ages. In fact, one of our greatest joys is seeing a bright smile on a child's face.
Perhaps the only thing better is seeing that same great smile 30 years later. In fact, with over 30 years of experience serving the West Leederville community, many of our adult patients have been coming to us since childhood to keep their pearly whites straight and, well, white.
We know most of our patients by their first names. We've been invited to their graduations, attended their weddings, and now, we're taking care of their children's teeth as well.
Sure, we love doing Invisalign and other cosmetic procedures as well, but we like to provide a variety of services for people of all ages.
Creating a Comfortable Environment
There's nothing worse than going to some cold and drab dentist office and feeling like you need to take a number and wait for it to be called.
At 123 Dental, we take the opposite approach. Our dental offices are conveniently located in a beautiful old West Leederville building that provides a warm and inviting feeling the moment you step in.
For the children, we have toys in the waiting room and kids TV with cartoons playing to keep them happy and entertained whilst in the dental chair. To congratulate them on a job well done and sitting patiently throughout their appointment, we also hand out balloons and stickers on the way out the door.
Let's face it, no one likes going to the dentist. However, we strive to create an environment both kids and adults alike will actually enjoy and look forward to coming back to.
For many, a dental visit can be stressful and cause a bit of anxiety, but we're all about putting our patients at ease and making the experience a positive one so they will keep coming back and have healthy teeth for life.
A Great Location
No one wants to spend more on petrol than they need to or driving 30 minutes out of the way, so we strategically placed 123 Dental to be right in the heart of West Leederville.
We're just down the street from the West Leederville Shopping Centre and just around the corner from the West Leederville train station, Mary Street Bakery, and many other area hotspots. That said, our patients extend beyond the local area. Several of our patients come from other suburbs as well.
Despite being so centrally located and close to the Perth CBD, you won't have a problem finding a parking spot either. Not only do we have ample parking out front, but there are free parking spaces next door at Coles.
Like our atmosphere, friendly service, and great work, our patients absolutely love our location too.
The Latest Technology and Equipment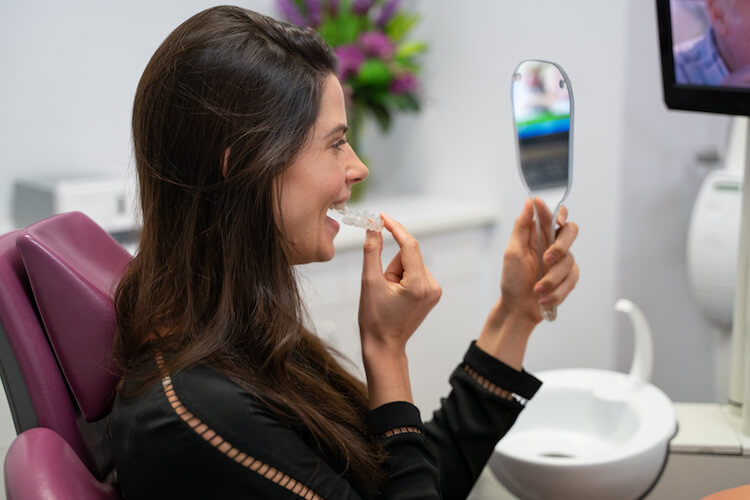 In the dental industry, just like any other, technology and equipment are continuing to evolve. Rather than being stuck in our ways, we believe in evolving right along with it.
In fact, we actually just bought the latest in digital 3D scanning equipment, which our patients are absolutely loving.
We use it for:
Scanning Teeth and Providing Forward Guidance

We use it for several different things, but we primarily use it for is scanning the teeth of patients who are interested in orthodontics, particularly Invisalign.

With this equipment, we can show them on the spot when they come in for their free consultation what their teeth will look like after the orthodontic treatment.

Many have suffered from and lived with crooked teeth for years, so their minds are blown when they can see and visualise what their teeth will look like straight for the first time.

Tracking Changes in Gums and Teeth Over Time

We also use this equipment to track the changes in people's gums and teeth over time. For example, if you're grinding your teeth, we can compare your teeth year over year to pinpoint whether or not it's an issue we have to deal with.

It's really helpful with receding gums as well. We have a lot of patients with sensitivity from their gums receding. That's where the phrase "long in the tooth" comes from. As you get older, your gums recede.

It's one of those things when you look at them with your naked eye, you don't really notice the changes or see what's happening.

With this equipment, however, we're able to give an objective score and say "you lost 0.1 mm of gum in this area over the past year."

We can clearly see if the condition has gotten progressively worse and can take action to treat the problem or minimise its effects.

Tracking Tooth Wear

The same goes for tooth wear. Tooth wear happens slowly, and unless you get it under control, you'll be left with no teeth and increase your risk of breaking teeth.

These problems can be much more difficult to fix and extractions are sometimes necessary. Our new digital 3D scanning equipment is fantastic in tracking changes in tooth wear and allowing us to be proactive in our approach.

The best part is, the machine actually rotates so patients can see images of their teeth in full 3D. Some of them will actually see a spot and find problems themselves.

When patients can visualise their tooth or gum this way rather than having us explain it, it helps them recognise the issue and take more ownership of their dental health.

All that aside, perhaps one of the unsung benefits of this nifty machine is the fact that it completely eliminates the need for the messy, gooey impressions most people hate. It's clean, easy, and there's no mess at all.

Despite the expense of this machine, it's been one of the best investments we've ever made. We're here to look after our patients the best way we can, and this technology allows us to do exactly that.
We Embrace Innovation
Knowledge is one thing, but as dentists, we're only as good as the tools we use. That's why at 123 Dental, we not only keep up-to-date on all of the latest industry news and research, but we also stay on top of the latest equipment and technology to provide superior care.
The example above is just one of many, reflecting our commitment to using nothing but the latest technology and innovation. Despite providing a warm and comfortable environment, everything in our dental office is state-of-the-art to provide the best possible patient experience.
We Use Nothing but the Best Materials
We also utilise the best and latest materials in all aspects of dentistry. Whether it's using the most aesthetically appealing crowns or the latest filing materials, we don't skimp on materials and only use the best.