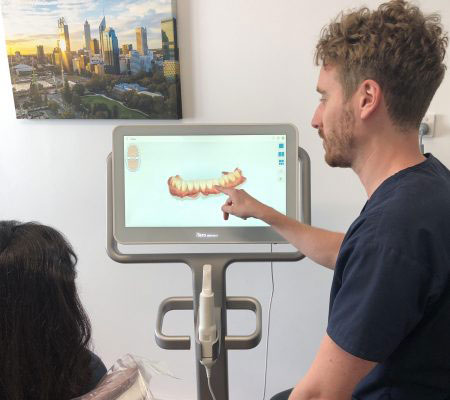 If you're one of the many people who doesn't visit the dentist regularly, it's time for a rethink. This is especially true if you haven't been for many years. Technological advances in the field of dentistry are revolutionising dental care in many dramatic ways, making diagnosis, care and treatment easier, less invasive and sometimes, even more affordable.
According to the Australian Institute of Health and Welfare, or AIHW, only roughly half of all Australians aged 15 and over visited the dentist in the last 12 months for the period between 2014 and 2015. For some, a lack of insurance makes regular visits too pricey. However, an even higher percentage of people likely avoid going out of fear. What they don't realise is how different the field of dentistry is now thanks to modern technological advances – and how much easier, more comfortable and more effective things like diagnosis and treatment can be because of them.
Before delving into the many ways in which modern technology is transforming the field of dentistry, it's important to note that not all dental practices offer the latest options. If you would like to take advantage of the technologies that are outlined below, you'll want to locate a dental practice that is committed to staying on the cutting edge of modern dentistry.
Today's Top Technological Advances in Dental Care
For many people, the dentist's office can be a frightening, anxiety-inducing place. If you've been to a dentist lately who utilises the latest technologies, however, you're bound to have experienced a change of heart. These technologies have done a lot to minimise discomfort, maximise relaxation and enable dentists to provide more personalised levels of care. Below, you'll find 10 of today's most exciting examples of advances in dental care through modern technology.
Digital ImagingIn many dental offices, print-out X-rays are becoming things of the past. They are replaced with digital imaging, which is increasingly used to facilitate faster exams, to inflict less exposure to radiation on patients and to generate less waste, which helps the planet.

Digital imaging relies on intraoral and digital cameras that are capable of completely documenting the clinical condition of a patient's teeth, gums and mouth through still and moving images. These images appear instantly, and they can be integrated into patients' electronic health records for future reference. Today's intraoral digital cameras are smaller, more lightweight and easier to use than ever.

A few examples of advanced digital imaging devices include:

The Canary – This advanced digital imaging device, which is about the size of an electric toothbrush, emits pulsing, red laser light to perform a quick three-second scan of the teeth. Thanks to its sensitivity, it is capable of detecting cavities and small cracks that can easily be missed by X-ray imaging.
S-rays – Approval from the governmental agencies is still pending, but S-rays could replace X-rays in the future. An ultrasonic device is used to map the teeth and gums in 3-D, allowing dentists to more easily diagnose cavities and various oral and dental diseases.

Screening EquipmentAdvanced screening equipment is increasingly being used to diagnose cavities sooner, which may allow a patient to keep more of their natural teeth. More serious issues like periodontal disease and oral cancer can also be diagnosed and treated sooner, leading to improved outcomes.

Some examples of the types of high-tech screening equipment that are being used in many dental practices include:

Digital radiography – Intraoral radiographs can now be performed, eliminating the need for the use of potentially harsh chemicals and providing useful information to dentists in a flash. Images can then be optimised on monitors, allowing dentists to make diagnoses faster and more accurately.
VELscope – Used primarily for the early detection of oral cancer, this device is a game-changer. It uses a specialised blue light to scan the mouth for potential tissue changes. In turn, biopsies may be ordered sooner – and treatment can be started earlier for an improved chance of a successful outcome.

Laser Equipment

The dentist tools you know could soon be a lot more high tech.

Laser technology is increasingly being utilised in dental practices around the world. Unlike with scalpels, lasers cause no bleeding, produce little to no discomfort and require no sutures. They also work more quickly than traditional methods, getting patients in and out of the chair faster.

Soft-tissue lasers are now often used for things like minor gum surgeries. Down the line, it is even possible that such surgeries will be performed by computers or robots. Hard-tissue lasers could eventually take the place of harsh drills to remove decay. Featuring very small, digitally controlled mirrors, these lasers are poised to make the treatment of cavities and the like easier, faster and more pleasant for patients. For now, they're prohibitively expensive for many practices, but that should change as technologies improve even more.

LED HeadlampsCertain aspects of sitting in the "hot seat" at the dentist's office are unpleasant to many patients. One common complaint is about the bright light that glares down on them while the dentist works. Thanks to LED headlamps, however, that's starting to change.

When paired with high-tech dental loupes – the scopes that are usually attached to eyeglass frames – LED headlamps can eliminate the need for overhead lamps entirely. At the same time, they allow dentists to see the magnified area more clearly, which allows them to employ a more effective clinical approach.

As a bonus, LED headlamps, unlike their traditional counterparts, require much smaller batteries that tend to stay charged for much longer. Therefore, they help to cut down on energy usage and make life easier for dentists and their assistants.

Digital ScanningIn years past, designing a crown, implant or other corrective components for patients, meant having to create moulds of their mouths using unpleasant putties. Digital scanning eliminates the need for that part, which patients tend to dread. In a flash, an accurate digital image of the scan can be produced and used for a variety of purposes.

Images from digital scans help dentists to plan treatments more effectively and efficiently. Since they can instantly be shared with dental labs, they are more convenient for everyone involved. This means that the resulting bridges, crowns and implants are more effectively designed, and it brings down the costs of such services.

Digital Smile DesignOne terrific example of how digital scanning and imaging technologies are being used can be found in Digital Smile Design. This restorative procedure has been taking the world of dentistry by storm, and it's easy to see why.

A powerful dental planning tool, Digital Smile Design improves diagnosis, predictability and dentist-patient communication. Digital Smile Design is used to create 3-D photos and videos of every angle of the mouth. Intraoral scanners are then used to create digital files that are imported into specialised software.

Once the data has been imported, the dentist can peruse a digital library of shapes and forms that can be placed over the tops of the teeth in an image to provide a preview of the potential effects of treatment. The images and videos help the lab to produce more realistic models that even take facial aesthetics into account.

From square one, the patient is closely involved in the Digital Smile Design process. Once they have approved the 3-D model and mock-up images, the restoration process can commence. Often, the model or mockup is kept in the patient's mouth as a reference. Damaged teeth and fragments of broken teeth are removed, and the restored teeth are put in as veneers or implants. The process is completed with a thorough polishing of the teeth for a bright, shiny smile.

InvisalignInvisalign, which can be used in place of metal braces for things like gapped teeth, mild bite issues and crowded teeth, has widely used for some time. Without a doubt, advances in dental digital imaging and scanning have improved the technology considerably. The clear, plastic aligners that are swapped out every two weeks or so over 6 to 18 months are generated by computers from moulds.

Invisalign is a popular choice among kids and adults

Unlike metal braces, Invisalign mouth trays are virtually transparent and don't affect outward appearance dramatically. They are also gentler on the gums and teeth, and they can easily be removed when eating, drinking, flossing or brushing. As imaging and scanning technologies improve further,Invisalign should become even more accessible to more people.

BiomaterialsAlthough not in widespread use yet, biomaterials are currently being investigated and tested for a variety of dental treatment purposes. Harvard University partnered with the University of Nottingham to produce a synthetic biomaterial that can allow cavities to heal themselves, for example. In the future, such biomaterials could help to reduce the deterioration of teeth, which will also reduce the need for more invasive and painful procedures like root canals.
Toothbrush technologiesAdvanced technologies are even being used to enhance the functionality of the simple toothbrush. For example, there are now toothbrushes that include cameras and location-tracking technologies that can highlight areas that aren't being brushed enough. Some include timers that sync with smartphone apps to keep you entertained for the two minutes of brushing that are recommended by dentists.

Down the line, specialised toothbrushes may be fitted with sensors that help to detect diseases via mouth tissue or saliva. Some may even be able to alert you of bad breath so that it can be addressed more quickly.

Electronic Health RecordsAlthough perhaps not as exciting from a patient's perspective, electronic health records, or EHRs, are another example of advanced technologies that are improving patient care. Many dental offices are fully digitising their patients' health records, eliminating the need for paper charts.

Electronic health records allow dentists to keep electronic notes for everything from charting and radiography to claims and billing. Dental office staff no longer have to scramble around to find patients' files, which is an especially good thing in emergency situations. These digital records also improve efficiency and workflow in the dental office, producing a more relaxing environment for patients.
What Does the Future Hold for Dental Technology?
In many ways, it already feels like we are living in the future, thanks to all of these technological advances in the field of dentistry. Of course, new technologies are continually improved, and they often bring with them even more advanced technologies. These advance can hold even more promise for improving dental care for patients from all walks of life.
Artificial Intelligence
A prime example of a technology that is certain to transform aspects of dental care in the coming years is artificial intelligence. Often referred to as AI technology, it involves computer technology that is capable of learning as it goes. In the context of dental care, AI will open up new paths for dentists to provide better care. It will also help to optimise scheduling, improve communication and result in improved diagnoses.
One way in which AI is already being explored in the field of dentistry can be found in the use of AI-enhanced bitewing radiographs. Under traditional methods, a dentist will usually interpret at least a dozen sets per day, scanning for cavities across roughly 300 surfaces. Under human examination, however, it is all too easy for small issues to be overlooked.
This problem may be overcome in the future through the use of AI-enhanced bitewing radiography. The technology is capable of automatically highlighting potential problem areas on radiographs, which greatly reduces the risk of missing cavities while improving overall consistency.
In the future, artificial intelligence may also be used to bring smart scheduling to dental offices, which will free up personnel to focus on more important matters. Another way in which AI may be used is in the realm of patient communication. Post-operative queries, for example, maybe largely handled through AI operators. With simple questions, prescription refills and the like being largely handled by AI, productivity and efficiency will improve.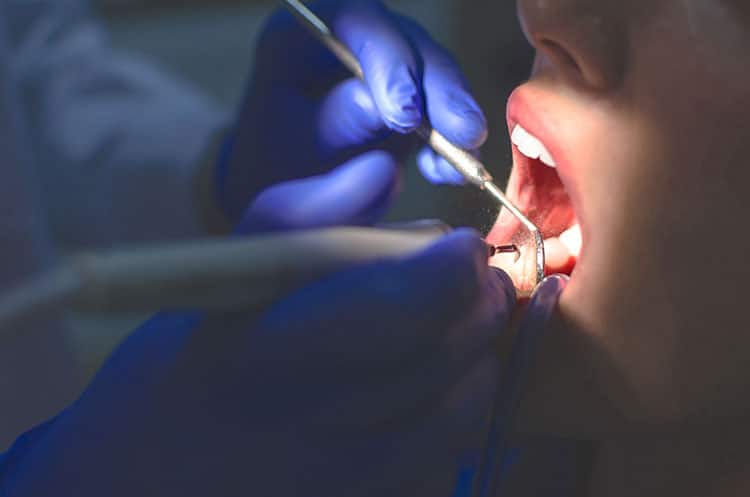 Other Upcoming Advances in Dentistry
When it comes to what future technological advances dental care has in store, AI is just the tip of the iceberg. For example, patients may someday be able to wear mouthpieces with pH sensors that will track the acidity of their saliva. This is important because acidity levels play a huge role in things like gum disease and tooth decay.
Another even more exciting technology that will likely emerge in the future is at-home digital scanning. Indeed, through their smartphones, patients may someday be able to create initial digital scans of their mouths for the fast diagnosis of basic dental issues. In other words, people won't be required to physically visit the dentist for many things.
This will democratise dental care by allowing people in remote areas or who otherwise struggle to visit dentist's offices to take important first steps from the comfort of home.
Ready for Your Next Dental Checkup?
Knowing what you do now about current and future dental care technologies, you may feel less reluctant to schedule an appointment for yourself. If you would like to experience these technologies and all that they have to offer, seek out a dental practice that strives to stay abreast of the latest technological advances. By doing so, you are sure to enjoy a dentist appointment unlike any that have before – and you may even walk out of there with a big smile on your face.