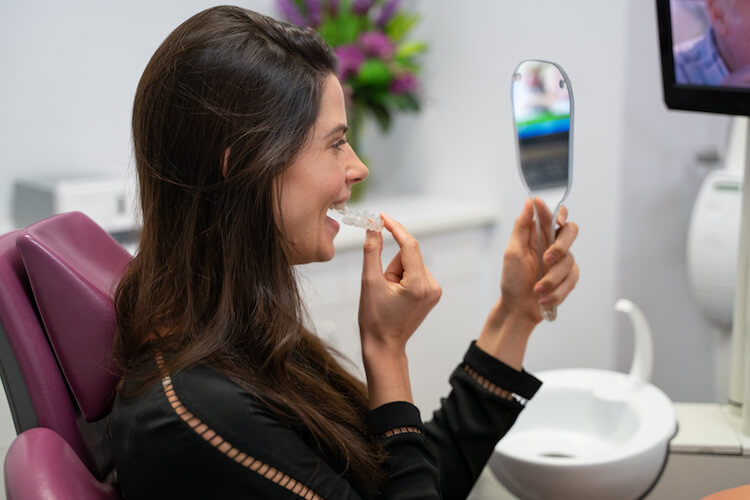 When most people think of orthodontists, metal braces immediately come to mind.
While braces have a long history of creating beautiful smiles, today's orthodontic patients have several other options, like Invisalign.
Invisalign is a hugely popular alternative to metal braces, and many of our patients come to us wanting to discuss whether or not it's right for them. They simply love the idea of wearing a removable, nearly invisible aligner rather than unappealing braces.
If you're considering orthodontic treatment, the best way to decide which treatment is best for you is to schedule a free consultation with our friendly team at our convenient West Leederville location.
We like our patients as informed as possible. So, in this post we'll take a closer look Invisalign aligners and help you determine whether or not they're right for you and your smile.
Invisalign – What is it?
Invisalign takes a gentler, more appealing approach to orthodontic care than traditional metal braces. Rather than using metal wiring, Invisalign aligners simply consist of clear plastic trays that closely resemble retainers.
Invisalign aligners are nearly imperceptible to others, and as well as average treatment times of six months or less, they also cause less pain!

How Does Invisalign Work?
When you come in for an Invisalign orthodontic treatment, we'll first perform a 3D scan of your teeth and take a series of diagnostic photos. The process is completely impressionless and radiation-free.
We'll then utilise 3D imaging to create a custom series of aligners designed to gently and gradually move your teeth into place.
Unlike braces, which are semi-permanent and definitely noticeable, Invisalign aligners fit over the teeth similar to a mouthguard only much, much thinner. Constructed of BPA-free plastic, they're comfortable and safe. They're also clear and virtually invisible, which is the biggest plus. While braces are typically in for months at a time, aligners are designed to be replaced every couple of weeks.
Once you have your aligners, you'll simply visit our office every couple of months for a progress check. You can also use the handy My Invisalign app to receive notifications and help keep track of your Invisalign treatment.
Invisalign is suitable for both adults and teens. Similar to braces, the length of treatment varies from one patient to the next. Depending on the severity of the misalignment, patients can wear them anywhere from three months to up to two years.
Why Not Braces?
When given the option between braces and Invisalign aligners, 90 percent of our patients avoid braces for several reasons, but here are a few:
Braces are noticeable and widely considered unappealing
You must avoid certain foods to prevent bent wires, loose brackets and food getting trapped.
Dental hygiene is more challenging
With Invisalign aligners, not only will you be able to smile and go about your day with confidence, but unlike with braces, you can eat what you like and take them out when brushing your teeth to make dental hygiene a breeze.
There's also no need to go back in for adjustments, and since they straighten teeth more gently, they're less painful than braces too.
What are the Benefits of Invisalign?
Tired of hiding your smile? Want to feel more social in social situations? If so, an Invisalign treatment may be able to help.
Here's a few reasons why more and more of our patients are opting for this minimally invasive orthodontic treatment:
Nearly Invisible
Unlike braces, most people will never even know you're wearing your Invisalign aligners, allowing you to straighten your teeth and smile with confidence throughout the process.
Removable
You can remove your Invisalign aligners whenever you want. Not only does this make brushing and flossing your teeth during treatment easier, but it also allows you to eat without food restrictions.
More Comfortable
Unlike braces, which can cause irritation to your gums and cheeks, Invisalign aligners are completely smooth and comfortable to wear.
Less Painful
Braces straighten teeth more aggressively than aligners, but for many patients, they can also be a little painful while doing so.
Our Invisalign patients can take out their aligners whenever they want. This makes eating meals, brushing, and flossing much, much easier. In fact, Invisalign aligners don't interfere with life at all. They're perfect for active adults and teens constantly on the go.
Is Invisalign Right for You?
As you can see, there's a lot to like about Invisalign aligners. However, they're not for everyone. Invisalign might be right for you if:
You're Worried About How Braces Will Look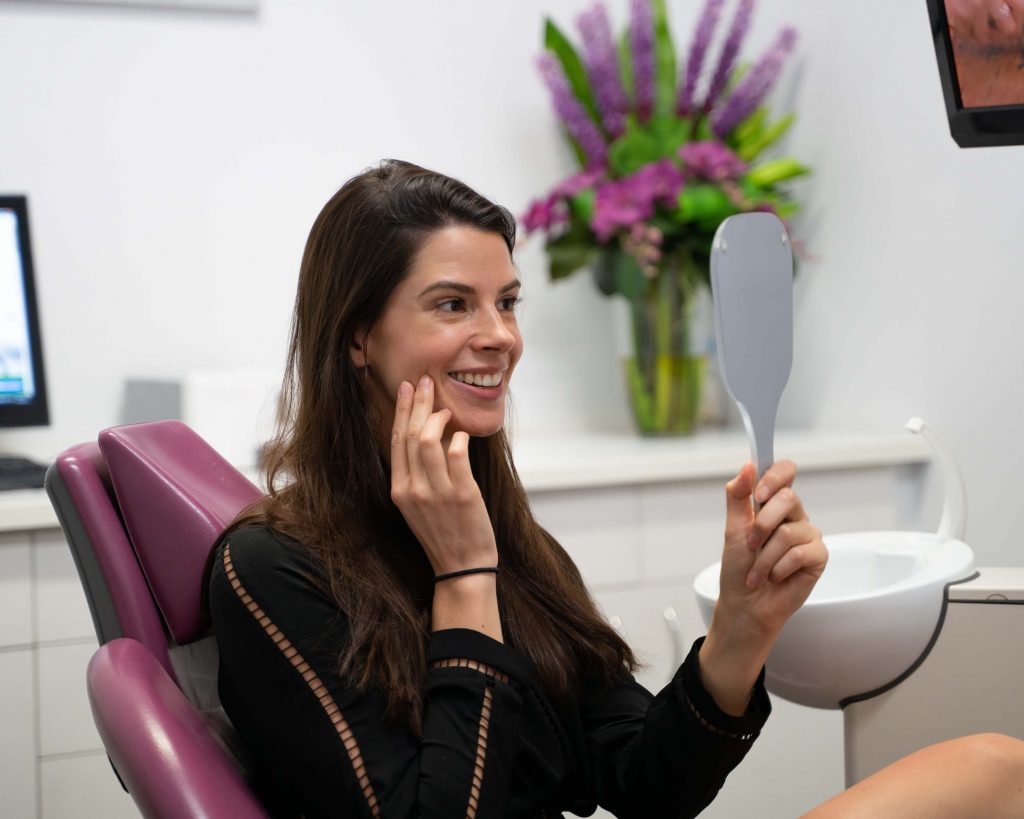 If you're worried about getting braces for cosmetic reasons, Invisalign can help. Most people, especially our adult patients, dread getting braces because of their metal wires and brackets.
Invisalign aligners provide the perfect solution. Since they're clear and virtually invisible, no one but you will know you're wearing them.
You Want to Brush Your Teeth Normally
If you get braces, we'll show you how to deal with the wires and brackets and work around them when brushing and flossing.
However, if you get Invisalign aligners, you won't have these issues. You can pop them out and take care of your oral hygiene just like you normally would without the need for interdental brushes, floss threaders, and other special tools.
You Want to Eat the Same Things
With braces, you'll receive a long list of foods you can't eat during your treatment. Foods like apples, popcorn, and gum will be off limits.
With Invisalign, you don't have to change your eating habits at all. You can remove the aligners when you eat and you'll never have to worry about getting food stuck underneath a wire, breaking a bracket, and so on.

Are You a Candidate? – 4 Questions You Can Ask to Find Out
Invisalign is widely recognised as the easiest and most comfortable fix for many patients' orthodontic issues.
Most people want a straight smile, but they don't want to shout out the fact they're fixing their smile to the whole wide world. That's why Invisalign's transparent aligners are so popular.
However, Invisalign isn't for everyone. Although consulting with us or another Invisalign provider is ideal for determining your candidacy, there are four questions you can ask yourself to find out in advance.
What Do You Want Fixed? Is It Severe?
The first question you should ask is whether or not what you want fixed is too severe for an Invisalign treatment.
Why? Because some issues like large overbites require more advanced orthodontic treatment. As long as your situation isn't overly severe or complicated, Invisalign can help treat mild to moderate cases of:
Overbite/underbite
Crossbite
Gapped teeth
Crowded and crooked teeth
If Invisalign isn't sufficient for the severity of your case, another treatment option, like braces, may be needed. We'll go over all of your treatment options during your consultation.
Are You or Your Child Old Enough?
Invisalign aligners are designed for adults and older teenagers. The teeth in younger teenagers and children are usually still growing, making them less than ideal candidates for Invisalign treatment.
Invisalign only works for those with erupted second molars, which typically takes place during the later teenage years.
Are You Dedicated to Fixing Your Smile?
Invisalign makes straightening and fixing your teeth easy, but unlike braces, you can remove them to eat, drink, and brush your teeth.
However, they must remain in your mouth the rest of the time for at least 22 hours a day. There will be times when you're tempted to take them out, so leaving them in will take dedication and self-discipline. If you're not dedicated to your Invisalign treatment, it simply won't work.
Have You Taken the Free Invisalign Smile Assessment Test?
If you're still not sure if Invisalign is right for you, try taking their free Smile Assessment Test. Just provide a little information about yourself including what you would like corrected with your teeth, and the app will determine whether or not you're a good candidate.
While it's certainly a handy tool, you can only learn so much from an app. Only a trained dental professional can tell you for certain which course of action to take.
What About the Cost?
The cost of Invisalign and any orthodontic treatment largely depends on the complexity of your case and your individual needs.
However, in addition to working with the insurance companies to maximise your savings, we also offer convenient payment arrangements. We'll go over the costs of different treatment options and review all of the financial details prior to starting treatment.
What Next?
Still have questions about Invisalign or not sure if it's right for you? Don't worry, it's perfectly normal. At the end of the day, only a consultation with a trained Invisalign provider can tell you whether or not Invisalign is the best option for your smile.
When you pay us a visit, we'll go over your options together and come up with the right solution to get your teeth how you want them and looking their best.
Call 123 Dental at (08) 9381 3806 to schedule your free consultation today!